Pravin Mistry, Director – Inventor of MLSE (R)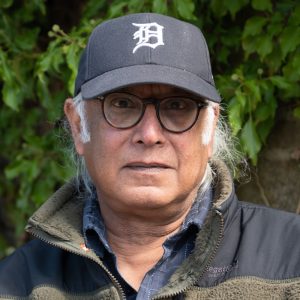 Pravin Mistry is the Founder, President and CEO of MTIX Limited.  Since establishing the company in 2006, Pravin Mistry brought MLSE® technology to the textile world, revolutionizing the creation of technical textiles. Mistry developed Multiplexed Laser Surface Enhancement (MLSE®), as President  of QQC, Inc.  His discoveries revolutionized diamond synthesis technology, combining UV and infrared lasers to synthesize diamond coatings on metals, polymers and other substrates. Pravin Mistry's career also includes 23 previous years in the packaging industry, where he developed and introduced advanced engineering ceramics and novel coatings for the packaging industry innovations and accomplishments have resulted in numerous worldwide patents for advanced materials, products and processes.
Pravin's other interests include Historical metallurgy, materials, music and media.
Selected articles on Mr. Mistry's Diamond Synthesis Inventions:
Discover
"Conventional techniques require placing the entire object either under very high heat and pressure or in a vacuum chamber for hours at a time while carbon crystallizes on its surface. Mistry's method is much simpler." "If you look at current technology, it can do flat plates and a few simple shapes… Give them a drill bit and they can't coat it. We can coat pretty much anything."
American Machinist (Cover Article)
"That machine, designed specially for display at the International Machine Tool Show in Chicago…attracted a fair amount of attention for its builder, Turchan Inc (Dearborn, Mich), because of its use of a 20-hp, 60,000rpm magnetically levitated spindle, the first time such a spindle had ever been displayed milling metal."
Science Times
"By unintentionally substituting the wrong gas for one they intended to use for hardening tools, workers at a small metallurgical company have accidentally hit upon a potentially valueable method for coating objects with a hard diamond film." "To manufacturers…a securely bonded diamond coating that is able to extend the life of a drill or die or saw or axle by thousands of times would be worth its weight in gold. Such a coating may at last be within reach."
Production
"So it just may mean that higher-performance machining can actually provide benefits of an environmental nature. • There is no coolant involved. This eliminates a disposal problem. • Any health problems related to coolants are eliminated. • Chips are clean and dry. They can be recycled more easily. • Since there is no coolant, floor around the machines are dry. This contributes to a safer workplace."
"Lasers: A Diamond Coating's Best Friend"
"The process directs laser energy at a subsrate to mobilize, vaporize and react with a primary element like carbon contained within the substrate. This modifies the composition of the carbon and diffuses it back into the substrate. "As an adjunct to fabricating a coating, this creates a conversion zone immediately beneath the substrate, which transitions meallurgically from the composition of the coating being fabricated on the surface, or diffusion bonding."
Chemical & Engineering News
"The pièce de résistance of the QQC technology, Roy said in his talk, is a fluid-injector nozzle made of iron-silicon alloy that was transformed in three ways: The laser treatment deposited a TiC cladding, converted the top layer of the alloy underneath (down to several tens of micrometers) into an amorphous metal – all without any signs of melting or changes in the object's dimensions. This is a 'staggering' transformation, Roy pointed out…"
"Laser coating method transforms surfaces."
"A laser technique that converts the surface layer into a superhard coating not only on metals, but also on ceramics and plastics, has reportedly been developed by QQC, Inc., Dearborn, Mich. The process works by overlapping the light pulses from at least three types of high-powered lasers…"
Photonics Spectra
"The shock of the high-power excimer laser combined with the temperature of the CO2 laser caused a cloud of white plasma. Engineers dropped the fine titanium carbide powder mixed with a carbon-rich gas into the white plasma cloud. Seconds after the plasma absorbed the titanium carbide surface – several times harder than the original surface. All this occurred without melting or causing visible changes to the nozzle."
"New Processing Technologies Emerge"
"In 1995, a new mass production diamond and diamond-like films using an interactive laser technique was developed by QQC, Inc. (Dearborn, MI_ and was officially announced in early 1996. Since the advent of this new technology known as the QQC process, diamond and diamond-like films and coated products have reached to a greater level of activity in film applications. One advantage of this new technology is that it can deposit films at very low temperature."
"Plasma-Aided Manufacturing for Microelectronics"
"Plasma processes can generate films. However, these films often require much higher pressures and different techniques than are used in high-density plasma chambers. Fore example, researchers at QQC Laboratories (Dearborn, Michigan) and Pennsylvania State University (University Park) use a combination of excimer, Nd. YAG, and CO2 lasers to ignite a plasma consisting of nitrogen and carbon dioxide at atmospheric pressure. This technique results in the deposition of high-quality diamond film. Such films can be laid on a metal substrate."
Tooling & Production
"Prof Roy also believes that the technology behind the QQC process… is fundamentally sound, calling it the 'biggest single step function discovery in diamond science and technology." He adds: "As if from nowhere, QQC developed a process for depositing crystalline diamond and TBNC (tetrahedrally bonded non-crystalline carbon) on demand" QQC can be applied on a variety of surfaces including tooling."
Laser Focus World
"A novel application for this beam-delivery system was recently developed by QQC Inc. QQC has developed and patented a method of generating a diamond coating on both ferrous and nonferrous metals. This technology can have a potentially large economic impact on the machine-tool and automotive industries, among others."
Machinery Magazine
"QQC is not a CVD or PVD process and does not require an atmospheric chamber. The substrate does not have to be pre-cleaned, pre-treated nor pre-heated and does not require dangerous gases or long cycle times. The coating can be applied selectively and it achieves a true metallurgical bond with the substrate, circumventing spalling or flaking."
Cutting Tool Engineering
"Even at production rates of 600 parts per hour, Turchan claims its dry-metal cutting systems can generate surface finishes on aluminum parts that are as foos or better than the finishes attainable using cutting fluid." "Turchan's president, Manuel Turchan, says that machine rigiditiy is necessary for dry end milling and drilling of aluminum with small-diameter tool at spindle speeds greater than 60,000 rpm." "In most cases, a dry-metal cutting system will repay its entire capital cost in a period of 18 months to 30 months."
"The Application Driven Technological Breakthrough"
"…the biggest single step function discovery in diamond science and technology in all history. As if from nowhere, QQC had come up with a process for depositing crystalline diamonds or TBNX (tetrahedrally bonded noncrystalline carbon) upon demand." "QQC not only had developed the process but they had made a dozen different products past the pilot stage; cutting tools, drill bits, ceramic hip joints, brake rotors, etc." "However, the QQC process, unlike LPSSS, is already far into the technology stage process which can produce a wide variety of new products in a very short time."
Machine Shop
"Enter QQC's laser-assisted plasma process, which is done in open atmosphere. Although it is a high-temperature process, the laser energy is closely focused at the point where the diamond is being created and bonded to the surface so that only a tiny volume of the substrate is heated. And it is so rapid, according to Mistry, that hardened and tempered HSS toold are coated with less than a 2-point drop in Rc hardness – well within the normally accepted hardness range for HSS cutting tools."
Southwest Machinery and Industrial News
"The Thriller Tool is a fast, economical, and highly precise method for producing threaded blind holes that will change the way you think about threading from now on." "Part of the Thriller Tool's productivity advantage stems from the elminiation of three tool changes from the holemaking operation…"
"Lasers Make Fast Diamond Films"
"Dearborn, Mich – A new laser technique that can make 'acres of diamond film' several thousand times faster and easier than chemical vapor deposition techniques has prompted a flurry of interest from firms that want low-friction, rugged coatings for industrial, automotive, medical and optical applications." "Because it uses standard machining lasers…the technique can be built into a system for many materials processing steps, Turchan said. This system can be thought of as the toolroom of the future,…"
Thin Film/Diamond
"Depending on the purity of the product, diamond conducts heat from 3-6 times faster than copper, at rates as high as 2.55 W/m-K, while also exhibiting semiconductor properties. At the very least, inexpensive diamond substrates will be invaluable to the shrinking world of microelectronics, which is seeing growing problems with heat dissipation."
Industries in Transition
"…Dr. Pravin Mistry unveiled a new technique for diamond deposition that may at last make the diamond coatings a commercial reality for tools and wear resistant parts." "Dr. Ajay Malshe of the University of Arkansas… confirms that he has seen the process in action and has verified that the coatings are indeed diamond. Dr. Malshe…adds that the industry can look forward to deposition can look forward to deposition rates of 1 micron per second on small surfaces, as compared to typical rates available with other processes of 1 micron per hour, 3,600 times slower."
Financial Times
"A process that creates pure diamond ans bonds it to a surface with the ease of paint on brush looks set t o change the manufacture of objects…" "Fred Gray, the association's president, says the new rapid coating technology, which makes its use in manufacturing cheaper and more flexible, could expand the market for synthetic diamond significantly." "The interest is due to the implications of making the hardest known material quickly and in almost any shape." "Valenite, Cincinnati Milacron's cutting tool business, has tested QQC coated sample against others. 'We found them to be the best in terms of performance, wear and adherence, says product manager Karl Katbi."
"Metallurgists run across new way to diamond-coat, setting industry abuzz"
"…workers at a small metallurgical company have accidentally hit upon a potentially valuable method for coating objects with a hard diamond film." "…it has spurred excitement among potential users, including the armed forces and the automotive and packaging industries."
Science Magazine
"The laser process, Roy reported at the Boston meeting, rearranges the atoms of the metal itself into new, high-strength configurations, and can blend added coating material into the underlying metal, atom by atom, to form an alloy that is less likely to degrade. Roy concludes that the technique 'is a major discovery."
Lubricants World
"One of the most successful dry machining systems specialists is the Turchan Technology Group in Dearborn, Mich." "…using tools with QQC diamond coatings for dry machining of aluminum, an operation can produce 600 parts an hour instead of the 35 achievable by conventional machining centers."
Tooling & Production Cover Article: Standing on Micromachining
"A breakthrough in diamond coating technology could take us a little closer to the day when dry machining is the rule rather than the exception…" "The introduction by QQC, Inc. a member of the Turchan Technologies Group, Dearborn, MI, of a new diamond coating technology marks the commercial introduction of a process that has already proven itself in high-speed dry machining of automotive powertrain components at GM's Power Train Div, Bay City, MI." "The QQC coatings can be applied to tools including cutting tool inserts, round tools such as drill and reamers, curved and irregular surfaces, and large flat areas in thicknesses up to 1mm and to any grade of tungsten carbide, ceramics, cast iron, stainless steels, and a variety of other ferrous and nonferrous metals and non-metallics."
Metlfax
"A new three-in-one tool offers cost and time saving, plus better quality, in producing threaded holes from the solid in machining centers. "In a single operation, the patented Thriller tool performs what would otherwise require individual operations by a drill, chamfering tool, and tap, with two additional tool-change cycles. "Reporting benefits include dramatically reduced cycle times, improved thread quality compared to conventional tapping operations, and tool life exceeding 10,000 holes per tool."
Manufacturing Engineering
"CNC changes the rules: Thread milling is not just for Class 3 threads anymore" "…the automotive industry is showing more interest in combination tools now that it is using CNC much more extensively on its production lines. Interest also spread to the boat-building industry when Turchan customized the tool [Thriller] to seat spark plugs for Mercury Marine (Fond duLac, WI), and outboard motor manufacturer." "Besides saving a minute and five seconds on this threading operation, the tool will be part of Mercury Marine's strategy to comply with EPA demands to reduce outboard motor emissions."
American Machinist (Cover Article)
"Two twin-spindle mills replace nine belt sanders to face-mill aluminum transmission channel plates flat to 0.002in." "Over 2 million channel plates were run across the two twin-spindle mills in a two year period and approximately $3 million/yr is saved over the previous process."
Tooling & Production
"The Thriller Tool drills, chamfers and threads, even blind holes, in one step." "The tools are designed to eliminate two complete tool changes from the normal drill, chamfer, and tap cycle used to produce threaded holes on machining centers." "The Thriller Tool is different from existing thread mills because it produces its own chamfered holes and produces threaded blind holes."
Modern Applications News (Cover Article): "Laser-Based Diamond Coating is Faster, Tougher"
"For nonferrous metals and non-metals abrasive composites, diamond coating has unmatched hardness, chemical resistivity and lubricity." "A recent diamond coating technology from QQC Division of Turchan Technologies Group, in Dearborn, MI, promises a practical, economical method for depositing a controlled thickness of diamond on cutting tool inserts of any shape and geometry. The patent=pending process uses lasers and proprietary technology to produce surface coatings on cylindrical tools, such as drills and reamers." "Unlike CVD diamond coating, the QQC coating process uses laser-based techniques to clean, coat and (if necessary) polish a workpiece or cutting tool in a single, highspeed process. The result is usually approximately 1000 times faster than CVD coating." "…the QQC process creates a very strong, true metallurgical bond between the diamond coating and the substrate…" "A further advantage of the QQC process is that it uses no wet chemistry…"
American Machinist
"A new diamond coating technology is providing an economical method for depositing controlled thickness of diamond on cutting tool inserts, round tools such as drills and reamers, curved and irregular surfaces, and large flat areas. The process, from QQC Inc.,… uses lasers and proprietary technology to produce the surface coatings, which have been successfully used on production metal-cutting tools and milling inserts."
Why Dry Machining?
"Currently, eight high-speed (15,000 rpm) dry diamond [Turchan] machining systems have been installed or purchased by the Big Three." "As the regulations tighten, GM is chasing a moving target. 'The only way to eliminate the problem is to eliminate coolants,' …according to Dennis Harvey, Manager, Manufacturing Integration and Machining Systems, GM."
Diamond Coatings
"Turchan…(Dearborn, MI) has been interested in diamond coatings as an enabler for the high-speed dry machining it does for the auto industry…" "Turchan's Pravin Mistry had been working on advanced materials for aluminum extrusion when he discovered a method of producing diamond coatings using a novel laser-based plasma process conducted in open atmosphere."
C&EN
"The work drew the attention of scientists at the Materials Research Laboratory at Pennsylvania State University, a leading center for research on diamond film technology. "It is absolutely one of the biggest developments in materials synthesis in a generation,' says [Rustum] Roy. 'And the amazing thing is that it was done entirely as part of a production, not a research, process." "…an official at the Office of Naval Research, who visited QQC, tells C&EN that the office intends to support research on the process. Test results that he saw confirmed that the coatings were diamond films."
"One-Step Tool"
"Drills, chamfers, and threads" "Thriller tools are designed to produce threaded holes from the solid, eliminating the need for separate drilling, chamfering, and threading." "The tools are applicable with aluminum, cast iron, and various other materials that produce easily broken chips."
Modern Machine Shop
"…tools that exploit the CNC's capabilities for helical interpolation to perform is a single operation what would otherwise require individual operations." "A good example of such unusual and interesting tools is the Thriller Tool…" "Properly applied, the result is a significant cost and time savings, together with improved quality…" "The Thriller Tool was developed by Turchan president Manuel Turchan primarily as an enabler for complete high speed machining of nonferrous parts. This tool represents a step toward gaining the same kind of benefits achieved in high speed milling in other high speed operations…" "These operations have been hindered in the past by the limited availability of spindles with sufficient rpm to run them at milling surface speeds…" "The Thriller Tool relieves these problems, because it never has to stop or reverse."
"Diamond Coating"
"For round tools" "A proprietary coating process can deposit controlled thicknesses of diamond on round tools, curved and irregular surfaces, and cutting inserts. "A US patent is pending on the process, which uses lasers and proprietary technology to produce diamond coatings up to 1 mm thick on carbide, ceramic, cast iron, steel, and other substrates. The ability to selectively coat round and irregular surfaces is unique among diamond coating processes…"